Telgiahi Frontier
Tootekood:
Frontier
Kaubamärk:
Frontier
Ühik:
tk
Laoseis:
Tellimisel
Tarneaeg:
7 päeva
Failid
Spetsifikatsioon
| | |
| --- | --- |
| Ahjutüüp | teisaldatav |
| Võimsus | 2kW |
| Suitsutoru väljaviik | pealt |
| Kõrgus | 19cm (7-1/2") |
| Pikkus | 43cm (17") |
| Laius | 23cm (9") |
| Suitsutoru läbimõõt | 6.5 cm (2-1/2") |
| Kaal (kg / lbs) | 10.2 / 22.5 |
| Pakendi mõõt (1) (cm) | 51x33x32 |
Toode sisaldab:
Frontier ahi + suitsutoru
Suitsutoru läbiviik
Sädemepüüdja

Suitsutoru läbiviik: Exit I Mini
Originally designed as an efficient heating and cooking solution for disaster relief missions, The Frontier Tent stove is a portable and affordable wood burning tent stove. Ideal for as a safe heat source for a canvas tent or cooking fabulous meals in the wilderness. The Frontier is recommended for its lightweight and packable design. Makes a great entry level glamping tent stove.
Key Features of the Frontier Stove
Collapsible Legs: Tripod legs provide a sturdy base for the Frontier Stove and fold towards the firebox for easy set up and transport. Stainless steel locking pins are included on each leg for safety and stability.
Catch Tray: The Frontier is equipped with a catch tray to help keeps coals and ash in the stove and off the floor. The catch tray is removeable for easy cleaning.
Flue Damper: The flue pipe section closest to the firebox has an integrated damper to adjust the air flow exiting the stove. Close the damper for a slower burn, open it to turn up the heat for a faster burn or to get your fire started.
Spark Arrestor: CanvasCamp includes a spark arrestor with every Frontier Stove. The spark arrestor is the top most section of flue with a covered top and small holes running around it to allow smoke to escape while preventing larger prices of burning ash and coals from flying out of the flue pipe and damaging your tent or sparking a fire. The spark arrestor needs to be cleaned regularly to prevent residue from building up and restricting airflow. Certain types of wood create more creosote than others, so this is a safety feature that needs to be inspected frequently. The Spark arrestor has three attachment points for guy lines that add stability to your stove set up.
Flue Pipe Sections: The Frontier Stove includes four 38cm (1'3) flue pipe sections 60mm (2.3") in diameter. Additional flue pipe sections can be purchased separately if your set up requires more clearance.
Tipi Sleeve (optional): A Tipi sleeve specifically made for exiting the Frontier Stove flue pipe out of the stop of a CanvasCamp tipi is sold separately.
Stove Jack: CanvasCamp includes a modular Exit I Mini stove jack with the purchase of every Frontier Stove allowing you to customize your stove placement in any canvas tent or tipi.
Top Exit System: The Frontier Stove flue pipe is designed to be vented vertically out of the top of a tent. A stove jack or flashing is required.
Cooking on a Tent Stove
The flat top of the Frontier is your cooking surface. A wood burning stove can be used to cook just about anything a you can cook on the range in your kitchen. Unlike your gas or electric range at home, there is no knob to quickly adjust the heat output. It takes a little practice to get the temperature right, but once you have your system figured out your camping meals will never be the same.
After you get a nice fire burning evenly and have some glowing hot coals to work with you can start cooking. Place your pot or pan on the hottest spot on the cooking surface for high heat and fast cooking. The hot spot is usually in the center or directly above the largest mass of burning wood. For simmering or slow cooking, move your pot or pan to the sides or front of the stove, or spread out your coals so there is only a thin layer of fuel under your meal.
The Frontier is equipped with a plate on the cooking surface which can be removed for maximum heat exposure and cooking directly over an open flame.
Safety
Canvas bell tents are not for use with open fire pits. Fire safety is the responsibility of the user. We encourage you to educate yourself and practice vigilant fire safety. Read our FAQ and blogs to learn more about fire safety. Do not hesitate to contact us if you have any questions or concerns at any time. Always check local fire restrictions prior to starting a fire as rules and regulations may change frequently throughout the year. CanvasCamp cannot be held liable for any damage or injury to persons or property resulting from the use or misuse of fire or flammable materials in or around our tents. When using one of our Exits, we advise to leave a minimum distance of 1m (3ft) between the stove and the Exit.
Always use a carbon monoxide doctor when using a wood burning stove inside your tent.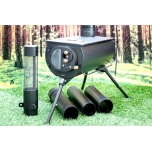 Tootekood:
Frontierplus ,
Laoseis:
Tellimisel
,
Tarneaeg:
7 päeva
549,00 €
Tootekood:
Exit Jack 45 ,
Laoseis:
Tellimisel
,
Tarneaeg:
7 päeva
75,00 €